The growing popularity of smartphones and other devices such as the iPad have affected the way users access their email in a big way.
While the percentage of users using their desktop PC to access their email has remained more or less constant, the percentage of those using their mobile phones to do so has increased substantially.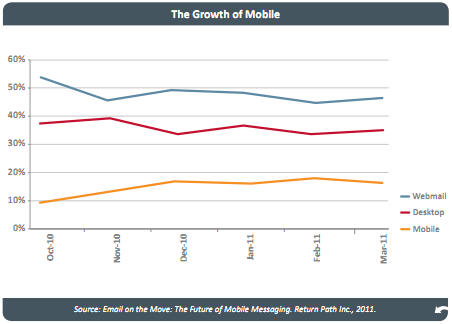 This conclusion was formed based on a study conducted by Return Path an email marketing and monitoring firm. According to their research, about 48% of users access their email through Web browsers such as GMail, Hotmail, and Yahoo! Mail. On the other hand, those using desktop-based email programmes such as Microsoft Office Outlook account for about 36% of users.
In contrast, the fraction using a mobile device to access their email is about 16%. While this figure is much lower than the numbers for webmail and desktop mail, it has grown by nearly 81% during the 6-month period of the study. This growth has, quite obviously, occurred at the expense of the other options.
The iPad and other tablets have contributed largely to the growth of "mobile mail", which allows users to check their email at any time and at any place. The study by Return Path shows that the use of tablets has surged by about 15% between October 2010 and March 2011. This surge is expected to continue, as newer devices hit the market.
The use of mobile mail is becoming important as it allows users to access their emails and learn of the latest developments at any time without missing out on some important communication.
On the traditional email side, desktop usage was high during the week, peaking on Wednesday and then tapering off over the weekend. Webmail use, on the other hand, is high on Monday, lowest on Wednesday and then rises gradually again to peak over the weekend. Neither of these statistics are surprising.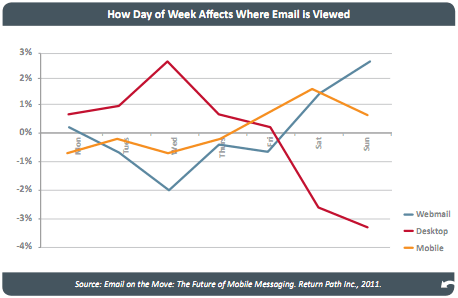 In contrast, mobile use remains fairly steady during the week, starts to rise on Thursday, peaks on Friday and Saturday and then drops again on Sunday, although it remains higher than on weekdays. Marketers need to keep these facts in mind when planning their campaigns so that they do not miss out on an opportunity to connect with their target audience.