A newly released report by Juniper Research predicts that revenue generated by mobile games is set to grow substantially in the next five years. According to Juniper's forecast, the total end-user mobile games revenue will reach $18.3 billion by 2016. The revenue that is expected to be generated has been broken up into various categories to get a better idea of the capacity of revenue generation. The categories are downloads to tablets, downloads to smartphones, downloads to feature phones in-game purchases on smart phones and in-game purchases on tablets.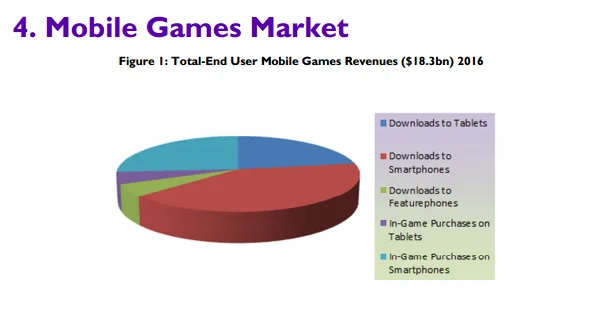 Total mobile end-user games revenues predicted for 2016. Source: Juniper Research
Downloads to smartphones, are likely to have the lion's share of the revenue generated, followed by downloads to tablets and in-game purchases on smartphones, both of which are expected to have nearly equal share of the revenue. In contrast, the revenue generated from downloads to feature phones and in-game purchases on tablets will be much smaller. Currently, in-game purchases, which are a small fraction of the revenue generated, account for about $2.1 billion worldwide, and are expected to reach $4.8 billion by 2016.