In the wake of a number of indecisive climate summits, the global drive for change in environmental matters appears to have diminished. This inertia is having an impact on the mobile industry, where annual supply chain greenhouse gas emissions (GHG) are expected to reach 115.5 megatonnes by 2019 – the equivalent to 60 years of flights from London Heathrow airport or the annual emissions from 22.6 million cars.
This forecast was conducted by Juniper Research and represents a 31.9% increase in emissions from this year.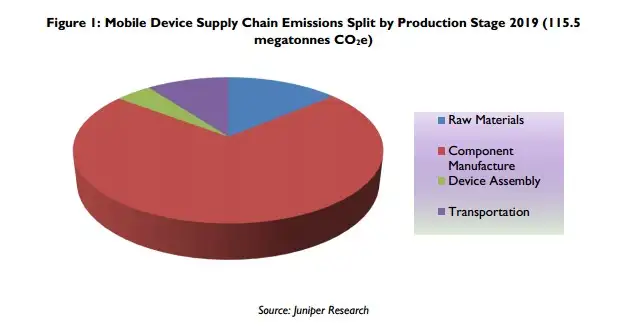 As we can see from the graph, the majority of harmful emissions are produced during the component manufacture stage (vendors are directly responsible for less than 5% of overall production emissions), however the report highlights the need to drive change across the whole value chain in order to achieve a significant net reduction within the industry.
Juniper predict that if vendors were to encourage component makers to increase energy efficiency and use more renewable sources, it could potentially save the industry a further 20 megatonnes of CO2 emissions.
Mobile devices are not only unsustainable in their manufacturing processes. They are also having a detrimental effect on the environment towards the end of their life, as certain design features on mobiles make recycling uneconomical. Mobile phones are made of hundreds of different substances, some of which are toxic, including mercury, lead and bromine. In order to ensure vendors do not exacerbate the growing e-waste problem, there needs to be more public pressure to design mobiles that are biodegradable.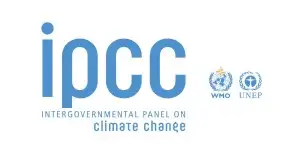 Due to a general lack of urgency, the ecological threat from mobile phone supply chain is being discounted from the green movement. A report released by the Intergovernmental Panel on Climate Change (IPCC) on 31st March has called for radical action from governments, businesses and consumers.
On the legislative level, since the Rio+20 climate conference failed to produce definitive guidelines for countries to adhere to, the majority of handset and tablet manufacturers still take the latest versions of the EU's RoHS (Restriction of Hazardous Substances) and WEEED (Waste Electrical and Electronic Equipment Directive) as a legislative baseline, with few other policy forces guiding the industry.
Sustainability has become a standard part of corporate social responsibility for more and more companies over the years, indicating that companies need to do something to tackle global warming. However, some handset and tablet manufacturers do not give this a high priority for their business, even among corporate social responsibility concerns.
Although there seems to be a broadening social pressure among consumers to purchase brands and goods that demonstrate eco-friendly practices, the effects are seen predominantly in the food industry. It is apparent that the eco-credentials of the technology industry are much harder to scrutinize than food packets in the supermarket.