Search spend in has increased year-on-year by 14% in the USA and 19% in the UK, according to a new report on the state of digital marketing.
The report, released by online marketing company, Efficient Frontier, states that during Q4 of 2011 search spend continued to increase in both the U.S. and U.K.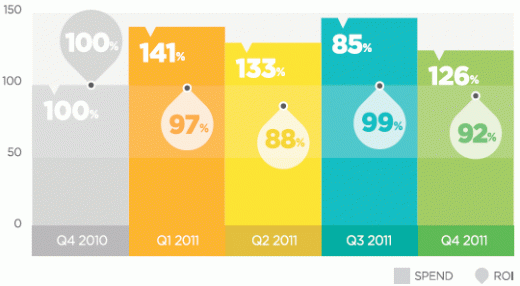 Increase in search spend in the UK by quarter. Source: Efficient Frontier
Retail spend in the U.S. grew by 18% year-on-year and 40% quarter-on-quarter, indicating that the spend increases substantially during the last quarter of the year. Retail growth in the UK was not as good, and this was reflected in the search spend too, which grew by just 10% year-on-year in the country.
Although Google accounted for 80% share of spend in Q4, Yahoo! and Bing clicks were found to be 14% more valuable and showed 9% higher return on investment than Google. The click-share of Google has, however, gone up by 2.5%.
Search CPCs dropped by 5% overall, mainly due to an increase in mobile advertising and better ad delivery.
Mobile ad spend now accounts for 7-8% of all ad spend compared to just 2% a year ago. Of this, tablets account for 50% of the share. Google drives 96% of mobile search ads while Yahoo! and Bing have just 4% share of the market.
In 2012, mobile search spend is expected to account for 16-22% of all paid clicks as users gradually shift from desktops to mobiles. For the same reason, search CPCs are also expected to fall by 4%.
Projected mobile search spend forecast by the end of 2012. Source: Efficient Frontier
Facebook accounted for 2.7% of biddable online spend in Q4, as marketers now spend a larger amount on social networks. Yahoo! and Bing are set to increase their ad inventory, while Facebook is expected to reach 5% of all online ad spend in 2012. Other social networks, such as Google+ and LinkedIn are also set to grow further and deliver more ad impressions.