Bing has announced a change in editorial policies that will mean advertisers can no longer include phone numbers in their ad copy. Back in February 2013, Google made the decision to stop advertisers including phone numbers in AdWords ad copy. Today, Bing has once again followed Google's lead.
Google's decision was motivated by their subsequent introduction of call tracking services and a greater focus on multi-channel attribution and tracking conversions offline. Bing's motivation is similar, though they don't yet have a sophisticated call tracking solution in place.
Albert Wang, Operations PM with Bing Ads announced, "Starting February 2015 in the United States, United Kingdom, Hong Kong and Taiwan, phone numbers will only be allowed through the use of call extensions or location extensions. The ad title, body, URL, and any other ad extensions, such as sitelink extensions, can no longer feature phone numbers in plain text."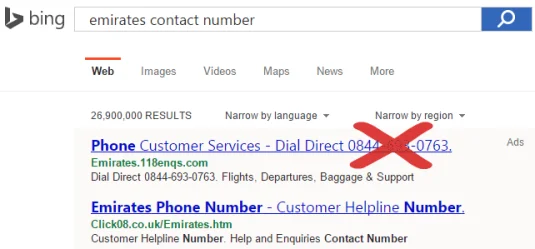 Currents PPC Ads OK Till June 2015
The change will only impact new campaigns starting in February 2015. Current PPC ads that contain numbers will remain untouched until June 2015, providing they are not edited in any way.
If your ads on Bing feature a phone number within the text, any updates/edits made to that ad after February may cause Bing's new policy checks to be applied. Edits do not necessarily have to be relevant to the use of a phone number.
Advertisers need to be prepared to start using local extensions and call extensions ahead of the February change date.
What do we think about Bing's decision? Does Bing just eventually end up mirroring Google? Please leave your thoughts and comments in the box below.