Mobile Search Engine Optimisation
We pioneered the field of mobile SEO. The growth in smartphone and tablet usage has since led to Google adopting a mobile-first search index. This means that businesses must adapt websites to ensure they are mobile friendly, or risk losing out.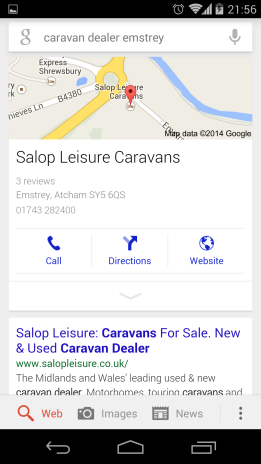 Mobile SEO requires an in-depth understanding of how handheld user behaviour differs from desktop browsing. At AccuraCast, we provide specialist services helping our clients ensure their SEO works across all devices.
Why we're first for mobile SEO
Expertise – we understand everything to do with search. It's not an add-on to our business – it's the core of what we do.
Experience – over decade at the forefront of SEO for mobile sites & apps.
Pioneers – we were among the very first search agencies to specialise in mobile search marketing.
ROI focused – we deliver measurable results and believe in keeping costs down.
100% Ethical SEO® – holistic SEO that won't get your site banned by the search engines. Our ethics policy explains clearly what we do and how we work.
Our mobile SEO services include
A balanced approach to SEO and PPC
Smaller screen sizes typically require users to scroll down to view organic search results. While mobile SEO can help build brand awareness and drive traffic, it is important to balance the use of organic SEO and PPC advertising to ensure you are reaching all mobile searchers.
It is also vital to keep up-to-date with the latest technologies and gadgets and with changes in user behaviour as well as search engine policies. We can guide you through this maze, and make sure your business is being found by users of the latest phones, tablets, and wearable devices.
Call us on 0800 019 6813 or email us
Find out how our mobile SEO services can ensure you reach more potential customers and keep you one step ahead of the competition.
From the outset we could see that the team at AccuraCast really knew their stuff when it came to SEO
Jerry Pett, Thymometrics
Get in touch
Want to find out how we could help you get more from your digital marketing campaigns?
Great! Let's talk. Start by telling us a bit about yourself…
Top Publications and Insights