Google unveiled an update on 26th July 2016 that promised to transform the performance of its search ads – particularly on mobile. The expanded text ad format, which provides 50% more space for advertisers to fill on the search results pages, was touted as a revolution, with early tests predicting click through rates (CTR) could be up to 92% higher as a result of the change.
We implemented the new format soon after it went live, and have taken a look at ad performance since then. What our findings show is that the new Expanded Ad format has led to a drop in average cost per click (CPC), a lowering of the average cost per acquisition (CPA), and an increase in total number of clicks. However, it has not led to the significant CTR improvement claimed by Google. CTR results were mixed – having gone up for some and slightly down for others.
The results
Early tests supported Google's big claims about the efficacy of the new ad format, and we wanted to see if actual performance has met these predictions 6 months down the line. Our data looks at over 2.7 million searches and 82,000 clicks across multiple industries including finance, travel, real estate, and e-commerce from 26 July 2016 to 6 January 2017.
What we've found is that CPC is significantly lower on average compared to standard text ads that were live during the same period. Expanded advertising has managed to reduce overall CPC costs, which is due to a general improvement in the Quality Score of the ads, meaning those using expanded ads pay less for higher positions.
As shown in the table below, the new format has led to an 21.6% reduction in cost per click and a 13.8% reduction in cost per acquisition.
| | | | | |
| --- | --- | --- | --- | --- |
| Ad Format | Impressions | Clicks | CPC Change | CPA Change |
| Expanded | 1,441,178 | 21,498 | -21.6% | -13.8% |
| Standard | 1,067,497 | 18,897 | 0% | 0% |
Were expanded text ads such a revolution?
Despite some tangible performance improvements, Google's predictions, based on early tests, were perhaps optimistic. The companies that got to test the new format in beta before it was released had high praise. Guitar Center, for example, combining promotions and sales with the extra text of expanded ads, talked of doubling their CTR, whilst cosmetics giant L'Oreal clarified how expanded ads led to an increase in CTR 92% with just one ad.
We have a couple of theories as to why longer term results weren't as positive as these early test results. To start with, these brands got in early, and the additional real estate provided them against their competitors' standard ads was likely to skew clicks in their favour much more than when the format was available to all.
Initially, standard text ads were scheduled to stop receiving support on October 26, 2016. However, Google then extended this date to 31 January 2017 – after which, advertisers were no longer able to create or edit standard text ads; ultimately completing the transition to the expanded text ad format. Since the ad format is now compulsory for all AdWords search advertisers, the expanded ad format no longer has the advantage of novelty.
Another point to note is that a lot of clicks still come from desktop, where the real estate afforded expanded ads isn't notably different to that afforded standard ads that include a period at the end of their first description line.
In fact, if we add extensions to our standard ad the final appearance is practically the same as the expanded ones. Can you tell which ad format is which out of these screenshots?


The difference is just slightly more apparent on mobile (the standard ad is on the left):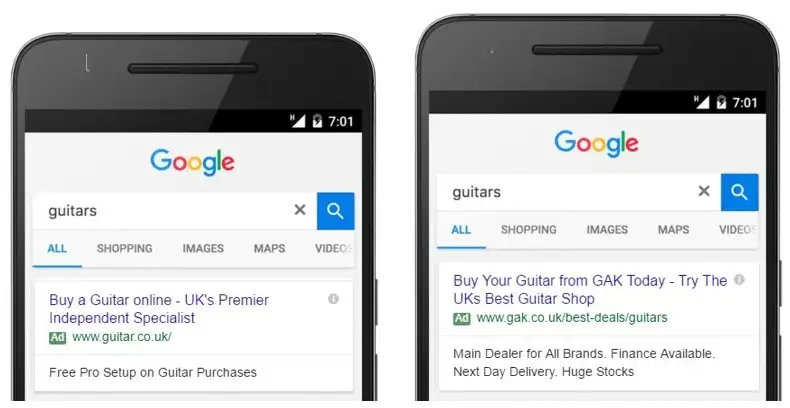 Whereas this is what Google indicated expanded ads would look like on mobile – note the lack of a second headline in the standard ad: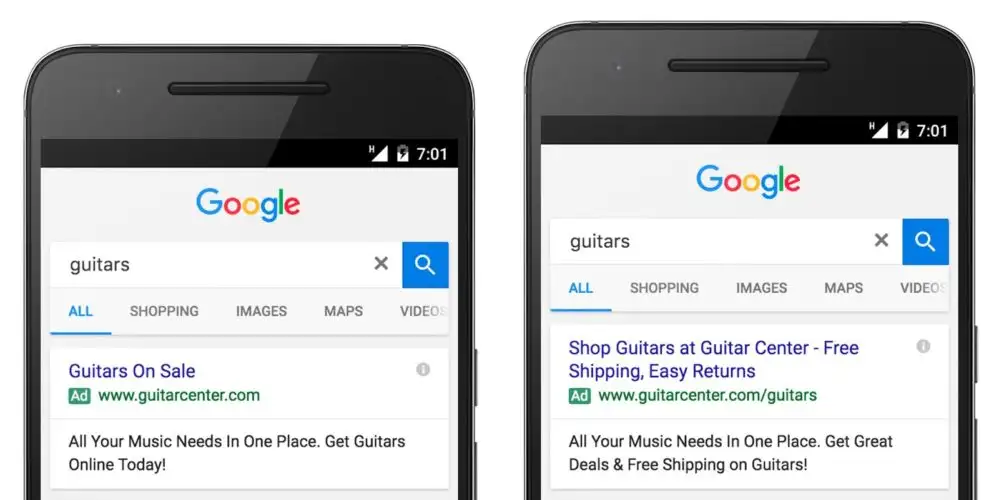 Since Google has been putting the first description line of text next to the headline of standard ads for a while now, the only difference on desktop is the additional "path" in the Display URL, plus extra black text description below the display URL.
About expanded text ads
The new Google format includes:
Expanded text ads have two headline fields instead of one. The extra headline field allows you to include additional text in your ads. Now you have up two spaces for headline text that support up to 30 characters each and appear on one line of the search results with a dash in between.
The two description lines have been merged into one field. Instead of the two 35-character description lines of standard text ads, expanded text ads have one 80-character description field.
The domain of Display URL is now based on Final URL domain. With expanded text ads, Display URL is no longer required when creating a new ad. Instead, AdWords will use the domain from the Final URL and show it as Display URL.
The Display URL can include two optional "Path" fields.  The Display URL has up to two optional director paths and appears below the headline. This allows advertisers to add text that will help people to get a better sense of where they'll be taken when they click it.