A report from Juniper Research has revealed that mobile money transfers will reach a total of 389 million users by 2018. The use of such services in Asian and African nations will drive this huge rise in usage, which initially sounds surprising until we dig deeper into the issue.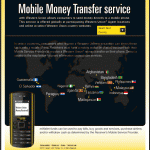 The key reason for this is that the banking systems in many of these nations are not highly developed or widely used. For example, in Tanzania only 17% of people have a bank account whilst more than 66% of the population own a mobile phone.
Many networks are keen to exploit this, following the success of M-PESA's mobile money transfer services in Kenya.
In the UK, we are already familiar with transferring money from our handheld devices, with mobile banking offering convenient fund transfers. Yet in recent years we have seen even greater convenience with the development of such apps as Barclays' Pingit, which enables money transfer between phones.
Emerging markets will be key to driving growth between now and 2018. The real question is whether advertisers can leverage this to their benefit in some way? Let us know your thoughts in the comments below.