Social media has not only helped people keep in touch with each other, but social sites have also helped spawn a brand new industry – social gaming and virtual goods, which have turned into a big business.
During Le Web Conference in Paris, Sebastien de Galleux the co-founder of Playfish and the V.P. of EA Interactive said that one of their very popular games, Pet Society, has about 20 million users at present, which is almost double the number of users for World Of Warcraft.
Playfish, the company that created Pet Society was bought by EA Interactive last year for the sum of $400 million. Pet Society became extremely popular on Facebook. The game allows Facebook users to choose a pet, modify it to suit their taste and then play games, decorate their virtual house and even bring gifts for their friends when they visit them. Some of the customisations and gifts need to be paid for (with real money).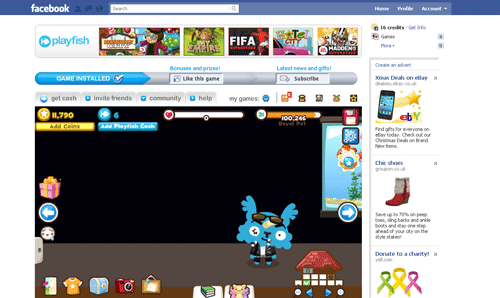 It was revealed that Pet Society sells about 90 million virtual goods daily. Even though most of the goods are very cheap and cost only a few cents, the total revenue generated is a substantial sum. Mashable reports that annual sales from the social game add up to about 32.85 billion goods per year. This figure, according to Galleux is more than what eBay sells, even though it is worth a lot less in real terms.
Galleux says that users are asking for more payment options for the purchase of bulk goods. He also revealed that although Pet Society is extremely popular it is not the most popular game. At present, the most popular game is FIFA Superstars and users are even willing to pay £5 to buy a good player.
According to James Binn, the head of PC gaming at Future Net, "Online games are bigger than ever – driven by social platforms like Facebook, which enable fast, cheap marketing and connect people in new ways."