We worked with UFC to create an engaging EMEA campaign, promoting the four action packed "UFC Fight Island" events.
These highly anticipated events ran throughout July 2020 on Yas Island, Abu Dhabi, and stood out as an innovative and welcome return to international live sport.
In partnership with The Department of Culture and Tourism, Abu Dhabi, the UFC team staged a series of four events, which included 40 of EMEA's top MMA fighters on the cards. They challenged us to deliver a highly-successful lead generation, awareness, and tune-in campaign to continue to drive the excitement and conversation already surrounding "UFC Fight Island".
Bring the heat, ignite passions
Our brief concentrated on engaging audiences in EMEA, with a strong focus on the UK and Ireland, Germany, Poland, Scandinavia and the UAE. We achieved this by using targeting on Facebook and Instagram to reach men & women from the ages of 18-55, MMA & combat sport fans, football supporters, motorsports aficionados, as well as aiming to also reach those who had an interest in tourism and travel around Abu Dhabi and the UAE in general.
Drive the hype with paid content
By utilising additional UFC content across the UFC Europe social channels, we were able to continue to build on the existing hype around the four events – which took place on Yas Island on July 11th, 15th, 18th and 25th.
Armed with creative provided by the UFC team, we were able to create three very successful Facebook lead generation campaigns. We also raised awareness around tune-in to the four events, by driving energy and excitement on Facebook, Instagram and YouTube – boosting content such as interviews with EMEA fighters, the weigh ins, and the face-offs for each individual event.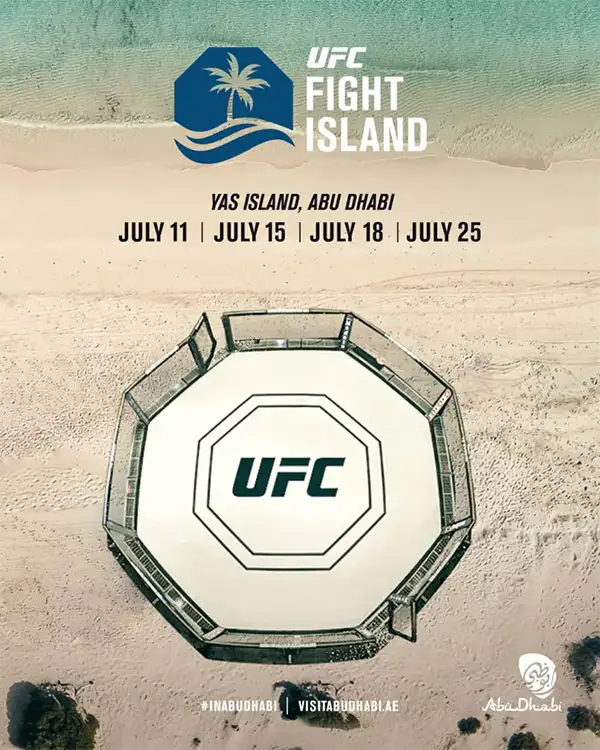 Campaigns in UK, Ireland, Germany, and UAE
Engaging content hit the target
11.4 Million
Impressions generated across four key markets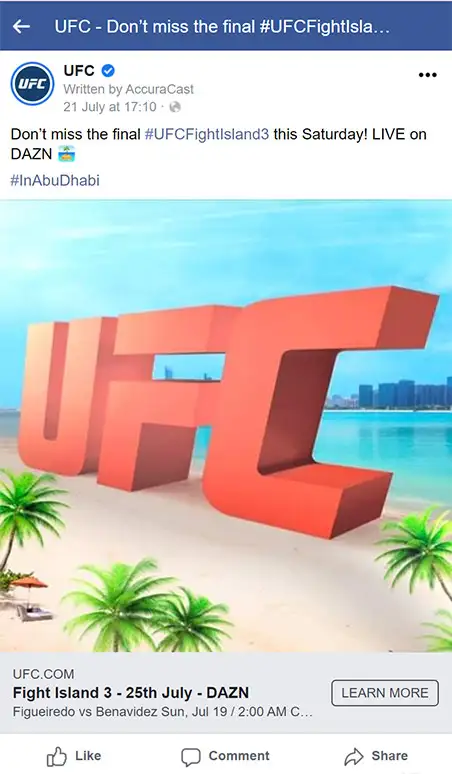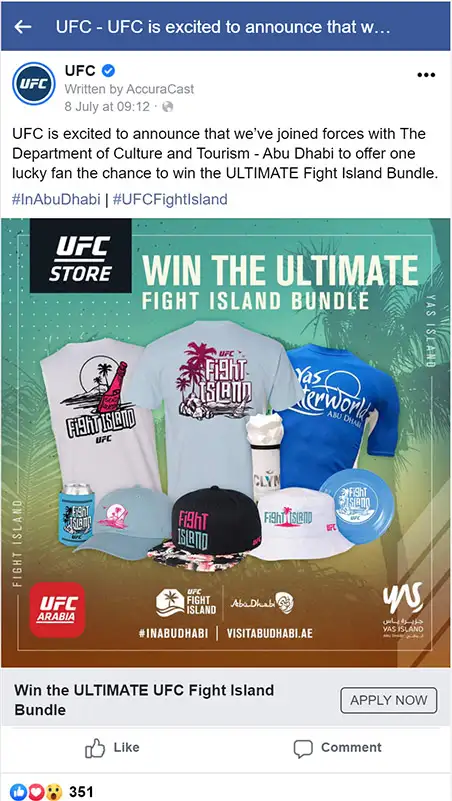 36.8%
Engagement rate on promoted content
8.97 Million
Fans reached in UK, Ireland, Germany, and UAE