Google AdWords Management

Google AdWords is a cost-effective and proven method for bringing in more visitors to your site by targeting Internet users searching for your keywords. AdWords is an exceptional advertising medium, but complex, and getting the best out of the platform requires skill, experience and a significant input of time and energy.
At AccuraCast, we utilise our expertise to set up, optimise and manage your Google AdWords campaigns, saving you time, improving results, bringing in more business and sales, reducing costs and improving the overall ROI of your marketing budget. Because we're continually testing the latest features from AdWords, we also help you stay ahead of the trends and ahead of the competition.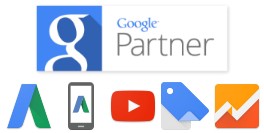 We are a Google AdWords Certified Partner – and we've even been featured by Google as one of their success stories:
Google Partner agency case study
Why we're leaders in AdWords management
Time saving – effective campaign management is time consuming and there's a steep learning curve. Get on with core business while we take care of campaign set up and management.
Money saving – our expertise can deliver better results for less money. We guarantee to improve your return on investment.
Expertise – Google has recognised our know-how and written about us as one of their outstanding success stories.
Experience – we're a Google AdWords Certified Partner with many over ten years of experience in AdWords management.
Out in front – we stay ahead of the curve by always testing and implementing the very latest tools and features of AdWords, to give your business a competitive edge.
Breadth of vision – we utilise all the tools available in AdWords, including display, product ads, promoted video, product and location extensions, sitelinks, and mobile click-to-call features. We blend these to achieve an ideal combination for your business, helping you reach more customers while lowering CPC and improving ROI.
Innovation – we keep our clients ahead of the curve by testing and using the absolute latest features from AdWords
Efficacy – we use the broadest and best combination of AdWords features to maximise reach, lower CPC and bump ROI by using re-marketing, display, promoted video, product ads, sitelinks & location extensions, mobile click-to-call and more.
Low cost per click – we combine bid strategies with creative copy writing and design to maximise your campaign's Quality Scores and deliver CPCs that are often below 10p.
Proven track record – one of the strengths of PPC is the ability to track result accurately – and we can demonstrate our ability with proven success stories backed by solid facts and figures.
Comprehensive services – we can take care of everything from keyword research to on-going campaign management.
ROI focused – measurable results that help reduce your cost per acquisition.
Outstanding support – call on our additional support and training services whenever you need them.
Understanding AdWords
AdWords is Google's advertising platform. The service places relevant ads next to the search results and on contextually targeted third-party web pages. Ads appear on the right hand side of the page and occasionally above and below the search results. AdWords enables you to:
Advertise to potential customers when they are searching for your products
Reach a wider audience than any other medium – Google ads are seen by 80% of the users on the Internet
Specifically target Internet users who are most likely to buy your products
Target customers geographically
Pay only for customers who click on your advertisements.

AdWords Campaign Set Up
We take away the hassle of setting up ad campaigns, selecting appropriate keyphrases, bidding on search terms, creating landing pages and 
developing attractive ads. Our consultants take care of everything for you.
We understand which keywords work, how to create effective ads that only attract your target audience, how to retain the visitors to your website with customized, targeted landing pages and how to generate more leads for less money.
We also provide set up and management services for video advertising on YouTube and other video sites in the Google Content Network.
Campaign Optimisation
Performance of existing campaigns can be improved greatly by using our campaign optimisation services. Our own expertise, combined with a dedicated support team within Google AdWords will review your campaigns, improve the ad copy, organise the keywords into higher performing groups, trim poorly performing keywords and improve the overall AdWords Quality Score for your campaigns. This will increase your click through rate, reducing cost per click and your cost per acquisition.
Google AdWords Campaign Management
We manage your AdWords campaign to gain better visibility and improve your advertising ROI. Our campaign management services include:
On-going bid management to find the optimal bid value to maximise return
CPA, CPC, CPM and CPP (cost per phonecall) bid testing
Ad copy writing and split testing to identify the best creative solution
On-going keyword research to identify new opportunities
Improving ad performance with social, sitelinks, product, video, offers and location extensions
Testing new ad formats including media ads, comparison ads and product listing ads
Mobile ad management with click-to-download and click-to-call ads
Measurement and tracking performance
Find out how our AdWords management services could drive more traffic to your website, grow sales and improve campaign ROI.
AccuraCast have succeeded for us where many others have failed, and they reliably turn in a profit where others could not!
Simon Powell - One Stop Grow Shop