Facebook is the most popular social network in the world, with more than 800 million users – equivalent to the populations of the EU and the USA combined. Advertising a brand, product, service, event or even an application on Facebook can extend its reach to hundreds of thousands of consumers or business professionals. You can target people based on their demographics, their hobbies, their leisure interests or profession, and even their marital status or sexuality, their football team or their favourite band or TV show.
At AccuraCast, we're experienced and accomplished experts at all facets of Facebook marketing and advertising. We've run hugely successful Facebook campaigns for organisations as diverse as the NHS and the Republic of Korea and from electronics firm LG to caravan retailers Salop Leisure.
Why we're first for Facebook marketing
Innovative – we keep ahead of the trends and are renowned for coming up with new ideas that reach millions of people.
ROI focused – we deliver measurable results and believe in keeping costs down.
Proven results –we create campaigns that deliver consistent and proven results.
Expertise – we understand how Facebook works, how it changes, and how the way people interact with the site continues to evolve.
Complete service – we can handle every aspect of your Facebook marketing and advertising campaign, providing you with detailed feedback of what has been done and the results achieved.
Experience – we've been involved in Facebook marketing since the early days of Facebook, and know what works and what doesn't.
Outstanding support – call on our additional social media support and training services whenever you need them.
Highlights – some of our recent Facebook campaigns
The Republic of Korea hired AccuraCast to promote the country as a tourist destination through social media network marketing in Germany, France and Spain.
Advertising the JT Hughes Hyundai dealership launch event on Facebook helped the firm to grow sales and develop a strong and popular brand with very high customer engagement. The event itself was attended to full capacity.
We worked with the NHS to promote stroke awareness among youngsters, teens and young adults. A Facebook campaign promoting the Heroes Act F.A.S.T. videos and ads received over two million impressions and the Facebook page more than 3,000 Likes.
There are a numerous methods of marketing a brand on Facebook, including:
Facebook Pages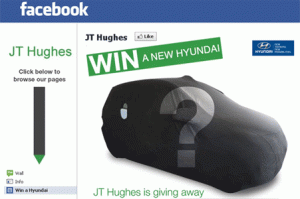 We can help you build a Facebook profile for your business with custom landing pagesthe new Timeline format for brand pages. We will also help you promote the site brand page and drives thousands (or millions) of 'Likes' to your page. Updates on your business page will then automatically show up in the news stream on fans' homepages.
Pages can also be used to notify fans of event listings, to distribute applications, images, video and other media and even to drive sales on your own site or store by offering exclusive deals to Facebook Fans.
Facebook Advertising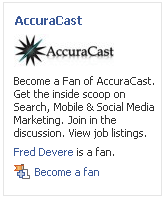 Display ads on Facebook can be highly targeted and extremely effective at building brand awareness and consumer engagement with the brand. We build and manage advertising campaigns on the social network and can advise on you on the right approaches and the potential results. In our experience, advertising on Facebook works best with social ads using very specific ad copy.
Facebook Applications
Building a Facebook application will help get your brand noticed and encourage growth in popularity and 'Likes'. We can seed viral campaigns that drive up the number of users, turning your apps into Facebook viral successes.
Facebook Events
Make sure that all your fans and brand champions know about events you organise. Our social media marketing experts can raise awareness and attendance to your events by promoting them on Facebook.
Find out how our Facebook marketing services can help make your brand a star on the world's biggest social network.