With 70% of web users now regularly watching short-form video, it's no secret that this format is becoming more and more the chosen type of content used by businesses to engage their audiences and promote their products and services. But with all the platforms available out there, which one should you use?
TikTok, is the leading platform for short vertical videos and YouTube Shorts, the latest feature released by YouTube, is meant to directly compete with the market leader.
YouTube Shorts
With over 1.5 billion users every month, YouTube Shorts bring some new possibilities compared to TikTok:
Reach: Even though TikTok is one of the fastest-growing social media platforms today, YouTube is still bigger, with more than 2.5 billion users.
Scheduling: This can help creators to schedule the timing of their Shorts going live. TikTok offers this feature on desktop.
Editing: You can edit video descriptions, tags, and thumbnails even after publishing. This isn't currently possible on TikTok.
Audience demographics: YouTube isn't as skewed towards younger audiences as TikTok (43% of TikTok's global audience is between 18 and 24 years old.).
Vast music library available
Revenue: YouTube Shorts is gearing up to announce an ad revenue-sharing model that could revolutionize short-form video and potentially attract TikTok creators to switch platforms (and potentially their followers as well).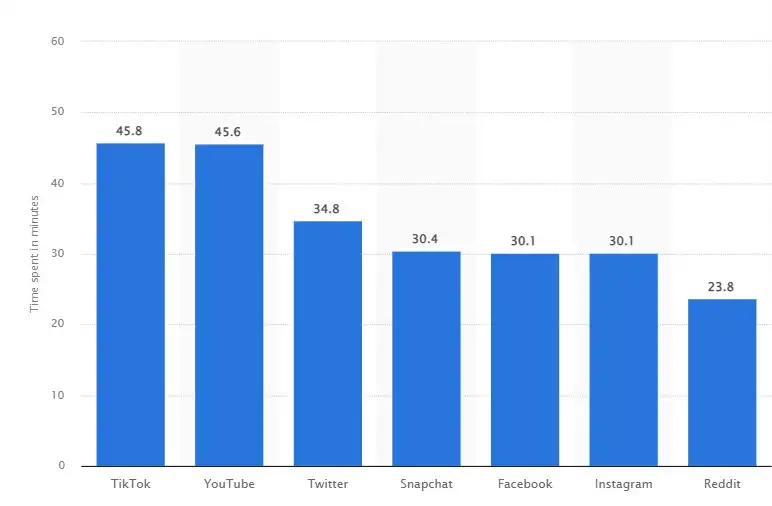 Source: Statista – Average time spent per day on select social media platforms in the United States as of April 2022
TikTok
In the UK and US, TikTok is still the most engaging platform. TikTok commands the highest average time spent per day on social media platforms in the United States.
Length: TikTok videos can last up to three minutes, and will soon make 10-minute videos available to users, allowing users to add more content to that video format.
Editing: TikTok offers far more extensive editing options, including AR filters and voice effects on the app itself.
Sharing: A more familiar social interface for content sharing encourages and facilitates sharing videos and messages to friends within the app.
Q&A feature: Native to TikTok, the Q&A feature allows users to leave questions for creators to answer with a video. This creates more of a community feel, and lets fans feel closer to their favourite influencers.
Analytics: Video analytics are accessible on the same platform, making this easier for creators to track and analyse the performance of their content.
Which platform is best for your business?
TikTok and YouTube Shorts have many similarities: Both are meant for short-form video content, both provide analytics, their feeds scroll in the same manner, and both allow users to earn money from their content.
The fact that TikTok encourages users to create, watch, and even share videos with friends within the app, helps content grow virally, giving this platform some extra points. On the flipside, the better deals that YouTube provides to creators might lead to larger audiences moving to this platform over time.
Comparing reach on both platforms, we looked at examples from the same creator present on both platforms and analysed how a specific video performed on each of them.
This data isn't conclusive, but gives an idea of the comparative reach on each platform, allowing estimations about which one could work better for your business.
As of now, most marketeers are very attracted to the potential reach and organic views each platform offers. YouTube SEO still can drive organic views for brands, especially with long-tail keywords. But viral growth on YouTube used to be near impossible to achieve… till Shorts was launched. Virality on TikTok, on the other hand, very much feels within reach for most marketers.