By default, Google AdWords is set up to drive more traffic to your website – and more money to Google's bank accounts. There are, however, simple ways to optimise your account to make it drive more sales or leads for your business rather than just clicks.
Understanding how to set up AdWords to target more conversions can help you turn around your campaign ROI and make search advertising a much more profitable exercise for your business. The means to do so are all there in the system. You just need to know where to look.
An obvious first step is to set up conversion tracking. Whether you're driving online sales via an e-commerce website, leads via an online form or phone calls to a dedicated number, you should set up conversion tracking on AdWords to measure and report each of those events.
1. Optimise ad rotation for conversions

One of the ad rotation options in the campaign Settings tabs allows advertisers to optimise ad serving so that creative variations that deliver more conversions are shown more. Once your campaign has a bit of history with a steady flow of conversions (more than 15 per month), you should choose this option.
2. Use CPA bids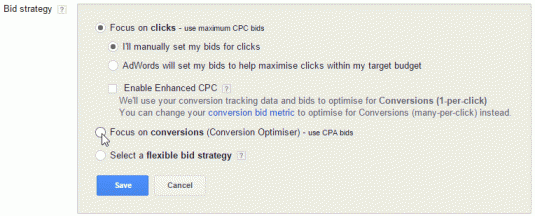 The CPA bidding option – "Focus on conversions" is available for campaigns that average at least 15 conversions per month. Before that, all accounts can opt for Enhanced CPC. Once again, this option is found under the Settings tab. We recommend testing CPA bids and monitoring them closely before making the switch permanent.
3. Target devices, networks and schedules for conversion

For each campaign, you can review the number of conversions and conversion rate by device type, network – search or display – and hour of day as well as day of the week. All of these metrics can be viewed under the Dimensions tab.
Once you've identified a marked reduction in conversion rates on any of these segments, you can either reduce bids or pause advertising on them altogether. This can be done by adjusting device targeting, ad schedules or the campaign type under the Settings tab.
4. Create automated rules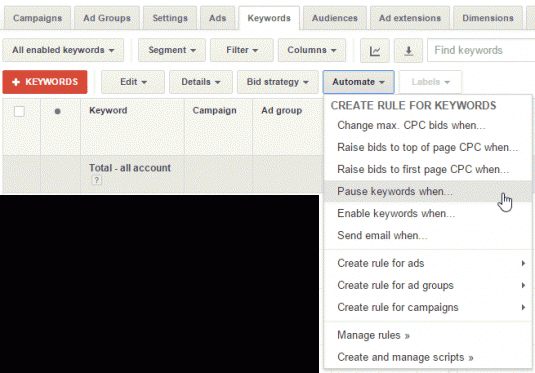 Setting up automated rules is a lot more complicated than any of the previously mentioned options, but they can deliver good results. Start by devising your strategy and performance objectives offline and then set up an automation rule such as the one illustrated below.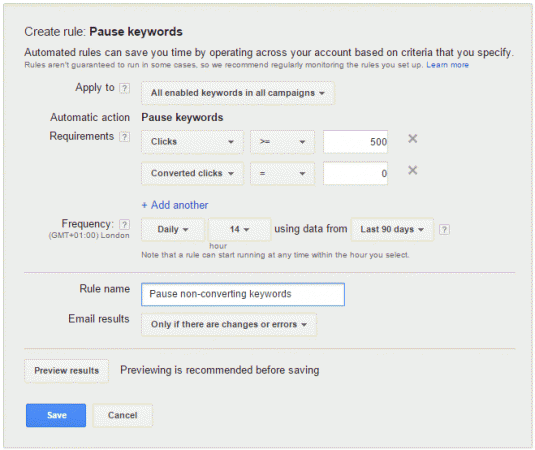 While the campaign management tools and options from AdWords have gone a long way to make life easier for advertisers, they don't quite substitute expert input. In fact, in some instances, these tools can lead to a false sense of security and end up resulting in unexpectedly poor results – too much expenditure or too few clicks.
It is always advisable to employ the services of a Google AdWords account manager, either in-house, via an agency or a combination of both to ensure that your account ROI is maximised and prerformance aligns with your company's goals instead of Googles'.