We've all been there, it's Christmas Eve or Christmas Day and we've forgot to get a present for a friend or family member. The shops are closed and at this point we are forced to go online, searching for a Christmas gift that won't have to be shipped. This Christmas is my first in digital marketing and this time around I have a different perspective on last minute shopping, as I now see this as an excellent opportunity for some crafty PPC advertising from companies offering services. Gift days, such as spa visits, and event tickets are the ideal last minute gifts, as they require no postage and can simply be printed out. But how many companies offering these services are actually recognising this and upping the ante, with just days to go until Christmas?
If we currently conduct a search for "last minute Christmas gifts", it is surprising to see the number of companies still advertising their services, despite the fact that they will have to ordered, processed and shipped in just a matter of days. Only the Virgin Experience Days fall into the category discussed above, but it is likely that this will increase once the deadline for shipping passes at the weekend.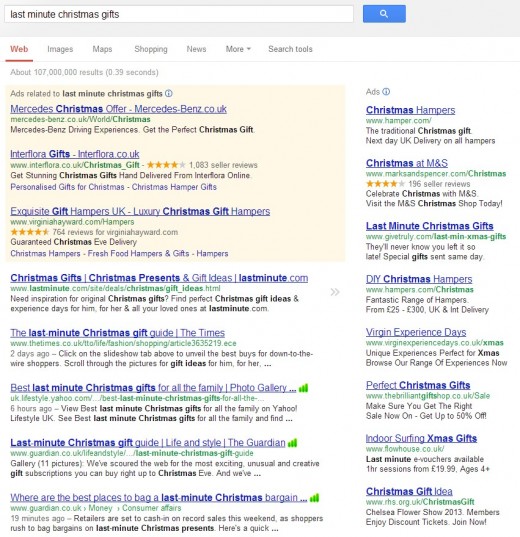 One of the reasons that could be preventing more companies from advertising their services during the Christmas period is the information on searches by Google. If you search for last minute Christmas gifts in the Keyword tool, then it will tell you that less than 4,000 global searches will be made this month. This is obviously inaccurate and perhaps in the future, Google could offer a tool for seasonal data.