The first step to global expansion and your next million is growing your cross-border business model. But introducing your business to each new market may present a multitude of challenges.
According to research, 55% of businesses cancelled or delayed plans to export to overseas markets or trade internationally because of the COVID-19 pandemic, and 51% said their view on the importance of international trade has increased. The survey, of 514 business leaders in the UK, gathered thoughts around international expansion in a post-COVID world. 
Two years on, the global economy continues to be affected by political action, but business must grow, as usual. With this in mind, we produced a guide to help businesses get the most out of digital marketing when looking at expanding internationally.
Why enter a new market?
Growth
For many brands, expanding to new markets is essential for business growth. It is key to do your research beforehand to identify whether there are good business reasons to enter a new market; whether that be a unique market opportunity or diversifying new revenue streams.
When entering a new market, consider the cultural differences that may be prevalent in this transition. An example of this could be if your business is selling merchandise for an English football team and you want to expand to a fan base in the USA, you'd need to consider the differences in language and colloquialisms when conducting keyword research e.g. 'football' and 'soccer'.
Strategy
Some new markets may be strategically important. New markets could be used to test products or to mirror a similar larger market. Gaining a presence in new markets before a competitor begins to expand can also will help maintain a competitive position in your industry.
Competition
If a global competitor launches in a market where your brand does not have a presence, you need to respond quickly and become an active player in that market to maintain your brand's global positioning.
Value
A new market is the ideal place to determine the value of your marketing efforts through brand positioning tools like lift studies. The result of these studies can help inform marketing strategies in your home markets and allow you to develop a better understanding of how to tackle approaching other bigger, more important markets.
Expanding globally is not without its challenges. It can take time to become established in a new market.
An example of rapid international expansion is the entertainment streaming service, Netflix. Originating in the U.S.A. in 2010, the service was available in 50 countries in 2015, and then just two years later Netflix expanded to over 190 countries. In the second quarter of 2018, the service's international streaming revenues exceeded domestic for the first time, and today 141 million Netflix users (67.5% of total users) are outside of the U.S. in no small part due to breakneck expansion during the pandemic.
How to position your brand
Brand positioning is a critical step in the success of actively establishing a certain image or identity of your brand to influence a consumer's perception. For example, in the global retail industry, Versace is a well-established, luxury brand often associated with celebrities and high-end boutiques, whereas Topshop is a more affordable, high-street brand. If you were to enter the global fashion market, it would be key to develop a better understanding of where your brand sits in comparison to competitors.
When you begin to conduct market research it is key to study search trends. Tools like Google Trends and Google Keyword Planner will give you an idea of which markets have more potential than others. 
See the difference below in Google Trends when you search for luxury vs retail fashion. 
Research the market
Explore Facebook Audience Insights and Google In-Market Audiences to view potential audience sizes, demographics, interests, and behaviours through data so that you can compare different audience types and plan your campaigns to market to the most relevant consumers. 
Facebook Audience Insights shows demographic, interest, and behavioural data about your audiences so that you can compare different audiences, plan your campaigns, and create relevant ads. This is a great way to determine how big your new audience could be, which in turn will give you a better idea of the market's potential.
For example, if your company sells a protein shake brand, and you are looking to expand your business to the UK market, your audience could look like this: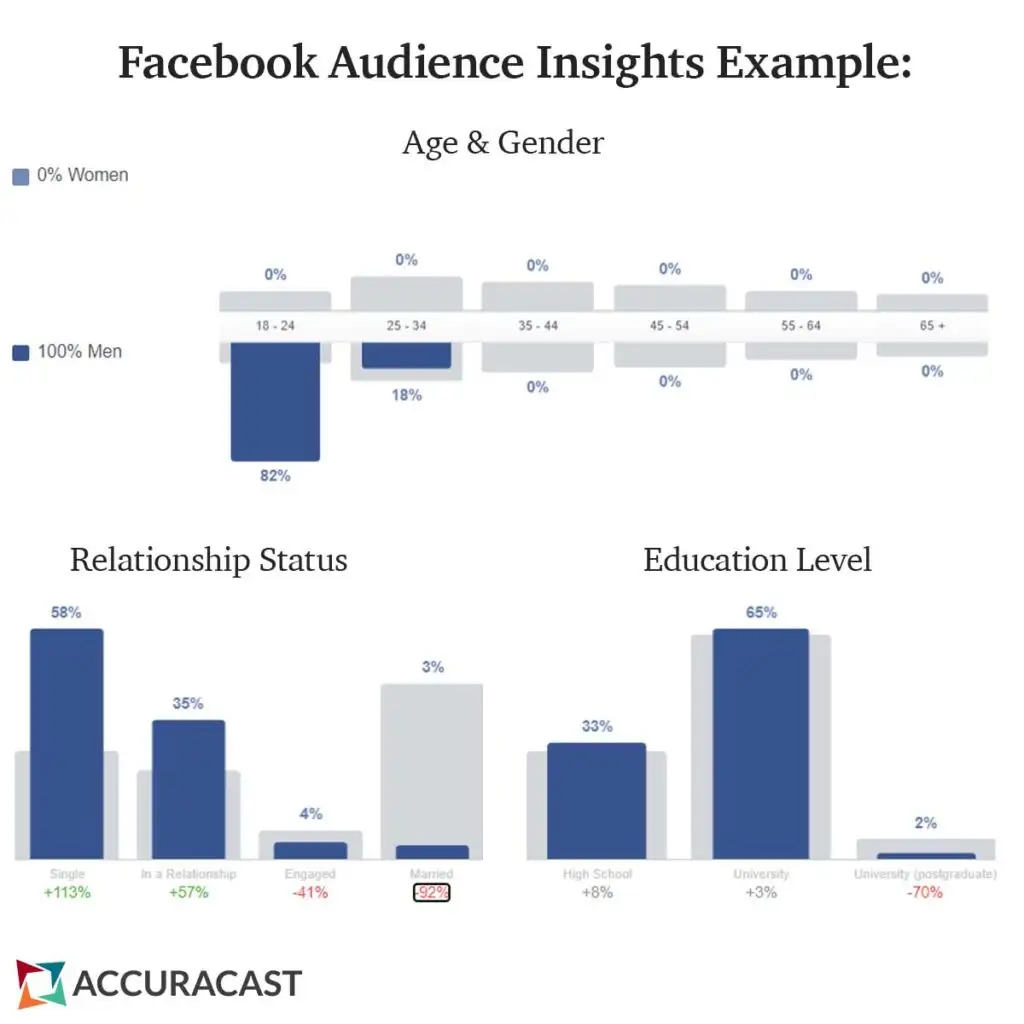 Google In-Market Audiences are also a great way to drive sales. By following a consumer's web page views and searches, Google is able to determine when a user is ready to make a purchase and can then place ads in the right place at the right time, allowing you to connect with consumers before they make a purchase decision.
When expanding globally it is important to identify the total available market and then use intelligent advertising techniques like Google's in-market audiences to reach consumers and earn conversions at the right time. 
Develop a marketing strategy
Technology has unleashed a new world of cross-border business. Today, it is more affordable and a lot easier for businesses to sell internationally than ever before.
We studied a number of business that have succeeded at growing internationally and a large number that failed. Our studies found that if you wish to succeed at globalisation, you must:
Understand who your customers are and why they use your service or product.
Build a marketing model based on customer data.
Replicate that customer success "formula" globally.

Businesses that use this framework of global growth that we developed are three times as likely to succeed. Truly understanding customer data and creating a marketing model based on that requires expertise. Working with an international strategy consultancy can help you reduce the risks of new market entry. 
Creative
Once you have decided on a market to expand into, you need to lay the foundation for an excellent consumer experience. This includes ensuring your marketing plan and operational structures are in place and optimised for your new market.
This means doing more to ensure you are connecting as much as possible with the community whether that be via language or considering and adapting your ad copy to the native culture.
To reference Netflix as an example again, one of the reasons that the streaming service has been so successful in their global expansion is primarily due to their inclusivity of different cultures. Netflix has become known for featuring a range of cultural and religious content including Bollywood and Nollywood movies; Christian films; Hindi films and TV series… etc. This inclusion has led them to become one of the world's biggest household names in the television and streaming sector.
Community
Consumers like to read reviews and comments before buying, especially if the brand or product is new to them. Adding customer reviews and ratings helps with social proofing. Advertisers should also consider building WhatsApp and Facebook groups (especially in emerging markets) as this gives people the opportunity to see and participate in real interactions between consumers and your brand.
Targeting
Considering how your targeting will change when you expand your business to a new market is crucial. Use your Facebook and Google data to develop a highly focused target audience.
Build an operational strategy
Technology
Plan what aspects of digital advertising are working in your current market and how these can be expanded globally to serve new communities across the globe. Considering cultural differences at this point is key.
Internet speed: Is your site light-weight enough to work efficiently on a limited internet connection?
Data plans: Local data plans may limit people's willingness to watch mobile video.
Accept the local currency: People do not want to suffer foreign exchange transaction fees to purchase your products.
Work with a Meta Business Partner to help get your technical set up right from the start when you launch in the new market.
Transparency
If you are shipping from a different country, be clear about shipping costs and delivery times. 70% of purchasers say having clear information about delivery charges before purchase is important.
Business partners
Entering a new market requires local knowledge. Everything from logistics, legal and tax issues, to accepting payments and cultural understanding can benefit from partnerships with businesses who know and operate in that market.
Measuring brand impact with Brand Health Check Studies, YouTube Surveys, etc.
Measuring brand impact with Brand Health Check studies is a good way to test how your target audience is responding to your ads. For example, Google's Brand Lift solution measures the moments that matter—from initial impression to final conversion—with metrics like brand awareness, ad recall, and consideration. 
When conducting a brand health check, also consider:
Reviews
Influencer marketing
Brand reputation – consider social media influence, website bounce rate, current customers
Brand awareness
Brand positioning in current market
A healthy brand is important as it can be one of the most crucial factors that will differentiate you from your new competitors. The global market can be very saturated and sometimes it can be very hard to compete with other companies when no single brand stands out and everyone says the same thing.
A strong brand can be your hallmark and will help you win over customers both locally and globally.
Cost of market entry
Today, the cost of testing or entering a new market are a fraction of what they used to be. Digital media not only lowers the physical barriers but also facilitates and economises a lot of resource-intensive activities that would go into traditional market entry.
For a business looking to enter a market similar to the UK, the typical costs for traditional versus digital would be:
 
Traditional
Digital
Market research

£5,000 – £30,000 for full-market v product detail market reports

Free – £5,000 with regular updates and automated reports
Creative
£15,000 – £250,000 for simple vs high end commercials
Free – £30,000 for platform provided creative vs rich media 
Advertising

TV – from £30,000 / month

Print – From £20k / month

PPC – From £1,000 / month

Social – From £1,000 / month

Localisation
£3,000 per language
From £60 for a few creative options
Just looking at the basics, costs for traditional routes to break into new markets start at ~£75k, whereas with digital you could test a market for less than £5k and then scale up as rapidly as your logistics allow.
Best practices
Use a combination of paid marketing campaigns, organic content marketing, PR activity and great customer experiences to build your brand.
Understand the difference between short-term and long-term wins – successful brand building takes time and long-term benefits are harder to measure than short-term wins.
A healthy mix of branding and performance marketing can develop brand awareness and drive sales in new markets.
Run A/B tests, and study user behaviour on your owned properties – then adopt the winning strategy and repeat.
Start small and scale in steps – measurement can help guide you on how to scale your campaigns.
Summary
Expanding globally is about more than just replicating the digital marketing strategy that you are currently using… it's about creating the possibility of growing your business internationally. Ensuring that you're equipped with the right tools, staff and product is essential for this type of growth.
Contact us to discuss your cross-border growth strategy
Originally published: August 25, 2021
Updated: April 28, 2023