Christmas is coming, the goose is getting fat, and retailers are gearing up for the busiest time of the year. Christmas 2015 saw a 12% increase in retail sales online, and digital marketing is the driving force behind it. 2016's holiday season can only be even bigger.
Digital Marketing – The Special Little Helper of Big Retailers
Digital advertising is becoming more and more important for sales of the world's biggest retailers. While big-budget TV adverts may get all the media attention, it is online marketing that is often doing most of the heavy lifting when it comes to Christmas time sales. Retailers are now combining above-the-line efforts of standard practices with dynamic digital marketing campaigns.
The most common way to do this seems to be making sure that any TV ad is not only emotionally driven and shareable, but also targeted perfectly and at the right time. This, in theory, starts a conversation on social media, making it 'viral'. Advertisers then use that momentum to reach the much larger potential audiences found online than TV – and, vitally, at much less cost.
One of the most famous examples of this was John Lewis' 'Man on the Moon' advert for Christmas 2015. In it, a child sends a present to an elderly man on the moon alone at Christmas. The advert contained hardly any actual branding or promotion of products. The only product placement was the telescope used in the film, and lo and behold telescopes at John Lewis sold out 5 days after the advert's release!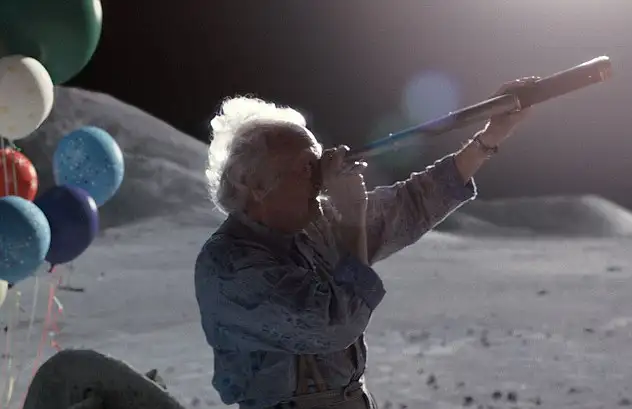 The campaign's entire budget was £7m, but the TV advert itself only cost £1m. John Lewis actually held on to the vast majority of their Christmas budget for marketing online. Digital tie-ins to go with the TV campaign including apps about the Moon and a mobile game were made. Online advertising also let them get closer to the buyer with a digital version of the film, including overlaid links to the products shown in the film. This interactivity can never be mirrored in TV or print.
"The key to the John Lewis ad is that people no longer watch real-time television," says Jacques de Cock of the London School of Marketing. "They defer their watching to Netflix or YouTube, and to capitalise on this market advertisers have to make their ads into social phenomena."
Is Online Shopping Santa's New Lapland?
The opportunities for e-commerce and advertising online are not simply due to the sheer number of people looking to buy, or the higher intent shown around the holiday season. A 2014 study by Google found that 57% of users looking to purchase during this period also didn't have a specific product in mind when they are starting their Christmas shopping splurge. This means there are golden opportunities for advertisers to get in front of the undecided majority.
More importance is being granted to Black Friday each year. But for online advertisers, this is not the only day to be targeting in the lead up to Christmas. "Cyber Monday" was coined by American marketers and takes place on the 28th of November. It is the biggest retail search day of the year and many companies do offers on this day.
As the digital marketing industry trends towards mobile, so does the holiday season. Christmas Day is the biggest day of the year for mobile searches. Mobile commerce, in general, grew by 42% over 2015 and is expected to rise further when results come out for 2016. Make sure your mobile targeting and content is optimised this Christmas.
The AccuraCast Grotto
At AccuraCast, we always look forward to this time of the year, not just because of the mince pies, but because it is a chance to exceed our client's expectations and boost sales and conversions.
Here are our very own sack of presents, in the form Christmas marketing tips!
It isn't too late to start a good Christmas campaign even after Black Friday (although it's typically advisable to start before, as long as you aren't annoying your customers with sleigh bells too early). Remember there is also Cyber Monday on the 28th November and Green Monday on the 12th December (which is eBay's busiest day during the holiday).
Vendors are up against literally everyone for consumer attention, so make sure the ads are very well targeted and the offer is great. Make sure you prepare for any Christmas campaign well in advance to ensure you are only showing to people who are the most likely to click, and hopefully buy.
If there's one thing all brands can learn from the big retail advertisers (John Lewis, M&S, Sainsbury's) it's that emotions play a big part in shopping, and so, an ad that strikes a chord with buyers is likely to be more noticed. This has been shown over and over again by the big supermarkets who have tugged on the heartstrings of the nation. They don't necessarily promote products – an emotional connection is often more than enough.
The long-play is volume. Make sure to weight your budget to the holidays as the opportunities to reach more people is exponentially bigger.
Video is likely to be the most effective creative format, especially on social media and even in display. People connect with stories, and video is the most effective way of telling a story online. The length of your online video ad could also impact how your audience reacts. Thirty-second videos have been found to be 50% more effective than those that are just fifteen seconds.
Bonus tip: Don't be shy to use emoji in social campaigns, but don't go mad with them either! ?