Reddit is a one-of-a-kind social platform that provides unique benefits that cannot be found elsewhere – a long-running, active community of individuals passionate about a range of topics. Reddit advertising can be an upper-funnel traffic source with a highly engaged audience and incredibly specific targeting. Businesses are looking more and more for new platforms for advertising where they can find the most vibrant and active communities. But is it a good fit for all businesses?
Despite being one of the most influential social platforms, Reddit is rarely mentioned alongside the major social networks. It has 52 million daily active users and over 1.5 billion registered users. Reddit is an excellent platform for product and consumer research because its users are extremely well-informed and opinionated. It can also serve as a venue for customer service and product feedback.
Reddit is a cohesive community in a way that other social platforms are not; Reddit users are focused on what is going on in the world and within the Reddit community, and they are remarkably interactive.
Why brands should consider advertising on Reddit
Reddit's advertising platform, unlike other platforms, is not over-crowded with ads, which means lower CPMs, and it allows businesses to reach niche audiences who are passionate about everything from r/WorldNews, r/Soccer, games like r/EldenRing, movies & series like r/HouseOfTheDragon and business topics such as r/AskMarketing, to some bizarrely specific topics – such as r/FormerPizzaHuts, and r/LowBatterySounds. Brands can reach highly engaged users within subreddits by targeting audiences based on their interests. Reddit is also good for B2B marketing because of its knowledge focus.
The diverse user base and the ability to select target audiences from the entire network can make it very effective at driving traffic, even more so than Facebook, Twitter, and TikTok. You can also install Reddit's Pixel on your website to retarget web visitors, or upload your first-party data to build a custom audience. However, standard targeting options beyond location – such as age and gender – are not available.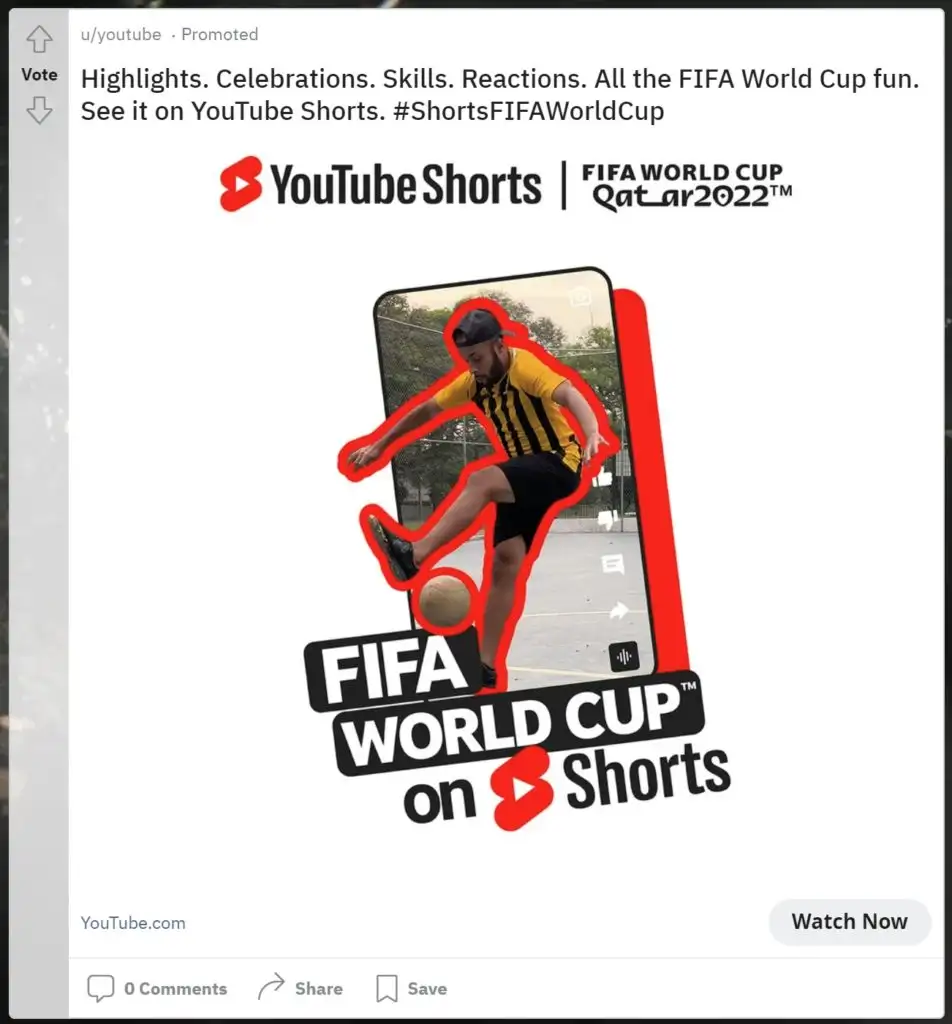 Our recommendations for advertising on Reddit
Based on our experience running a number of campaigns on Reddit we would suggest a few key things to bear in mind when considering the platform:
Study the list of topics discussed on Reddit to determine if they work for your marketing plan. The best way to use Reddit is to become an influential member and advertise higher-performing posts to a broader audience.
Traditional banner ads tend to flop on Reddit. Advertising in these communities must hit both the topic and the tone of the network – this can be especially challenging for newcomers.
Another intriguing Reddit feature is the large ad unit prominently placed in subreddit feeds, where video ads can be displayed. They can have a big impact because of their size and placement on the page, but need to be properly targeted and resonate with the audience.The screenshot above is an ad for YouTube Shorts with the FIFA World Cup, placed in a fantasy gaming subreddit. This hasn't fared particularly well, due to the audience mismatch with the message.
The cost of advertising on Reddit, especially for this level of exposure, may be less than that of other more popular advertising platforms.
Over the years, promoted posts on Reddit have been quite successful, especially for retail, gaming, esports, consumer goods and tech companies looking to tap into close-knit communities.
More recently, a number of e-commerce brands have started using online discussion platforms to create awareness of their products, as well as to get new product ideas through unfiltered feedback. Get in touch if you'd like to learn more about Reddit ads and whether they could be effective for your brand.