It used to be too simple to submit forms on Facebook. But based on advertiser feedback, the social network has changed its Lead Generation ad format recently to make it tougher for users to sign up.
Facebook launched lead generation ads last year, which gave users a quick way to sign up for information from the brands they care about. Whether brands want to encourage people to subscribe to a newsletter, signup for an event, or get more information about a promotional offer, lead gen ads simplify the signup process.
Instead of sending traffic to a landing page and having users manually fill out all the information in a form, the Facebook ad platform automatically opens the form with the person's contact information pre-populated, since users are already signed in and have shared this information with the network.
Advertising on Facebook allows businesses to reach thousands of potential consumers with highly specific targeting. With the introduction of lead ads, Facebook made the part where most lead attrition occurs – the form filling stage – as fast as two taps: one on the ad to open the form and another to submit.
What's this 'Context Card' feature all about?
Lead gen ads essentially made it far too easy for users to sign up, meaning lead quantity often vastly outweighed quality. Facebook has recently released a new feature to help advertisers improve the quality  of leads: the context card.
A context card is an added tile that pops up after someone clicks on a lead ad, but before they get to the form. This gives businesses the opportunity to offer users more details about what they'll get as a result of providing their contact information.
The idea behind the context card is that it allows advertisers, to add a further qualifying step before the user submits the form. While this may decrease lead volume, it goes a long way towards ensuring that users don't just sign up without realising what they're giving their details up for.
Businesses that use lead ads to find new email subscribers, for example, can use a context card to explain what type of content subscribers can expect to receive in their emails.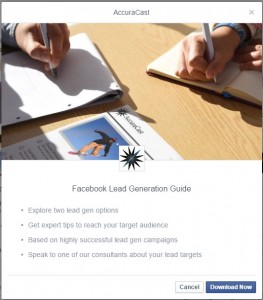 How to add a Context Card to lead gen campaigns?
The process is very straightforward:
Step 1: First, click on an ad to create a new form. In the Lead Form section, click 'Create Form' and give it a name.
Step 2: Once the desired fields on the lead gen form have been selected or filled in and the privacy policy URL and Disclaimer entered, advertisers are given the option to add a Context Card.
Context cards can include:
Headline: something catchy that also lets the user know what they are signing up for
Benefits text: additional details about what's on offer, in the form of bullets or paragraph (we tend to prefer using bullet points).
A customisable call to action button: here advertisers have the opportunity to create a customisable call-to-action – anything from a standard 'Sign Up, or 'Get More Details' to text that's more specific to the offer.
Step 3: Check the form preview, then click 'Create Form'. Once the form is saved, it should show as one of the options in the lead ad editor.
Step 4: The context card will be shown immediately after a user clicks the ad, before the pre-filled form. Once the user clicks on the customizable CTA button, only then will they be redirected to the pre-filled form, which will now be one further step removed in the conversion funnel.